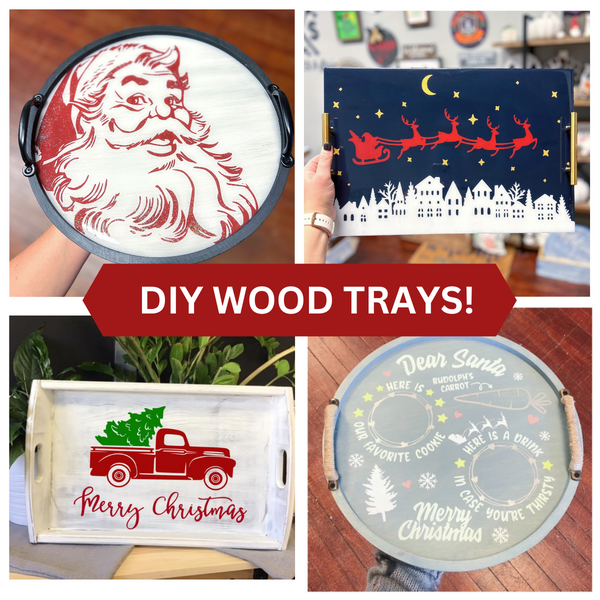 Workshop Spotlight: Tues Dec 12th @6:30pm
Create a BRAND NEW project with us - Holiday (or everyday) Serving Trays! We took some of our favorite holiday & everyday designs and created NEW trays for you to make! Get together with friends & share memories while you make your masterpiece!
Click Here: To Save your Seat!
Looking for a Handmade Gift for Someone Special?
Did you know that we sell our Handmade Signs & Projects that we create right here in Beverly ONLINE? We also sell them at our studio during workshops & open days/times! Each sign - Holiday or Everyday - is made with lots of love, creativity & is ONE OF A KIND!
You can order online & pick up at our studio OR you can shop in person!
Shop our Handmade Signs & Projects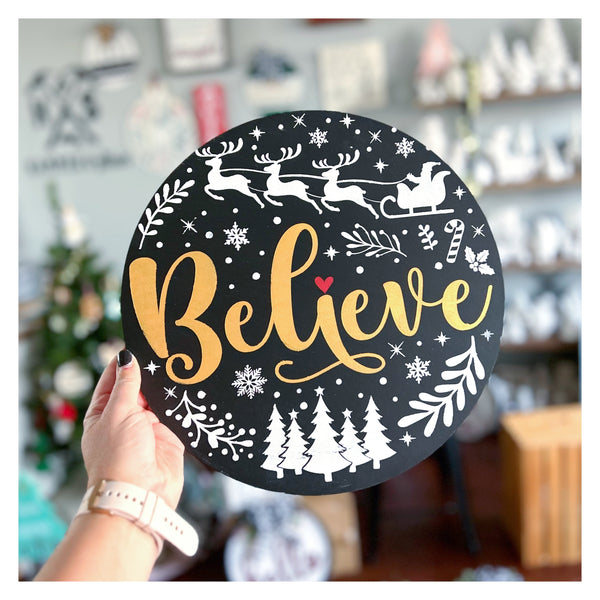 Hand Poured RESIN Proejcts for Sale!
We love to CREATE Resin projects at our studio in Beverly! We make lots of different types of hand poured resin pieces - from Charcuterie Boards to Trays to Clocks and More! All of our Resin projects are for sale ONLINE (to be picked up at our studio or shipped to you) or you can shop in person when you attend a workshop or one of our open days/times!
Shop our Hand Poured Resin Pieces!
looking for a unique & fun gift for a crafty person? Shop our craft kit gift sets!
---
Testimonials
Fun, creative vibe...!!! The variety of projects are great and personal attention to detail for every participant is amazing. So nice to focus on creative process without distraction of pop up venues in public restaurants, etc. Excited to meet great people, and go home with the gift of art.

Mary, Lynnfield MA
You have to check out Hammer & Stain! Lesley is wonderful! I took a workshop with 4 friends. We all had a great time. We will definitely be back to do another project.

Marianne, MA
Lesley at Hammer & Stain is awesome, fun and put up with all my crazy family and friends at 2 private pumpkin succulent nights! If you love crafting or looking for a night out with the girls this is the perfect place

Bridgette, Gloucester MA
Introducing - Hammer & Chain!
We are now offering an exciting service at our studio - PERMANENT BRACELETS!
What are Permanent Bracelets? They are claspless bracelets that get "zapped" onto your wrist (well the jump ring gets zapped - you dont!) and can only be removed if you cut the bracelet off!
Our bracelets are Silver & Gold or Rose Gold Filled. We have over 15 different chain options to choose from and you can get one or get a stack (1 bracelet is $45). We can even do anklets & necklaces!
All of our upcoming "zapping" times for bracelets are listed on our Public Workshop Page!
Upcoming Permanent Bracelet Dates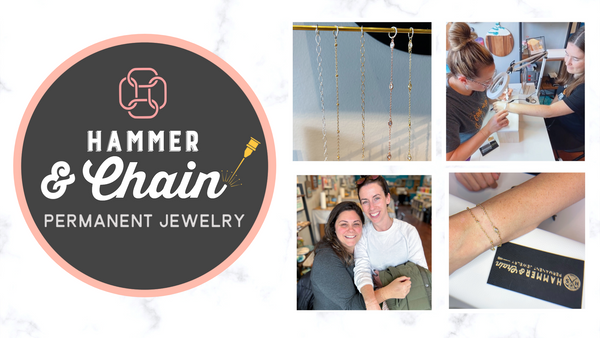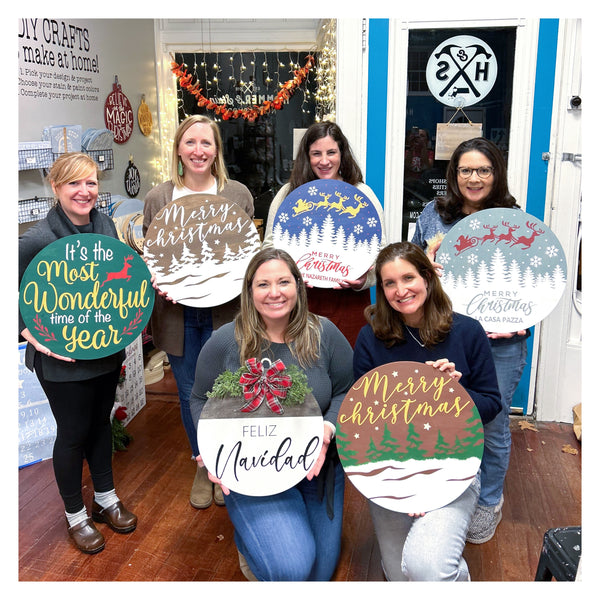 Are you tired of the same old ladies nights or weekend activities? Want to try something new and creative?
Our DIY Workshops provide a unique and fun experience where you can make your own custom home decor project with your friends and family.
Book Your Seat Here!
Book a Private Party!
Looking for a fun & creatie night or day out with your friends and family?
You can have the WHOLE studio to yourselves when you book a private workshop with us!
We are now booking parties for January & February!
**We also host Corporate workshops both offsite & in the studio
More Info on how to book!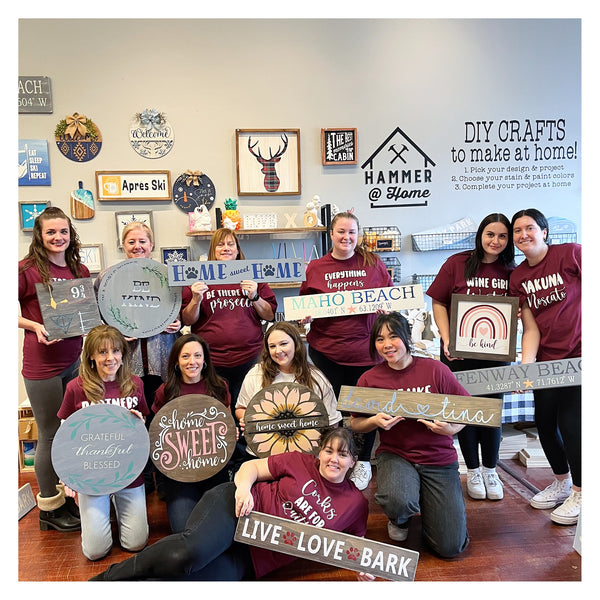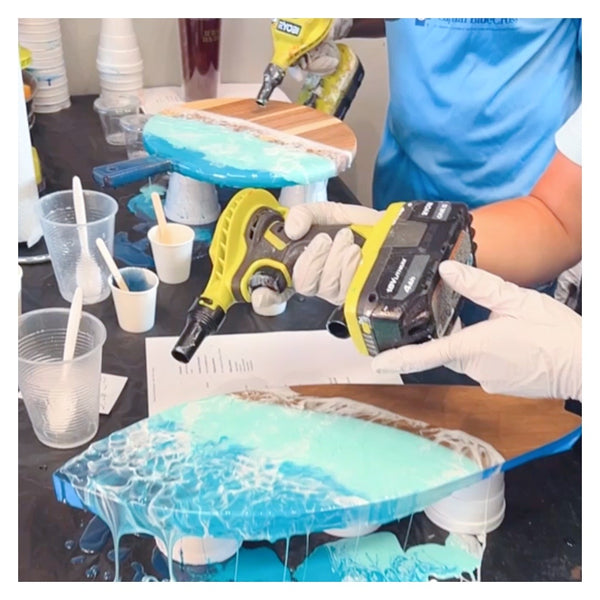 Learn how to create your own RESIN art project from scratch!
Ever wonder how the pro's make those awesome resin cutting board or trays? Well now you can learn how to make them yourself at an upcoming resin workshop! We walk you through the process setp-by-step and you leave with your own custom handmade resin masterpiece.
Click Here for upcoming workshops!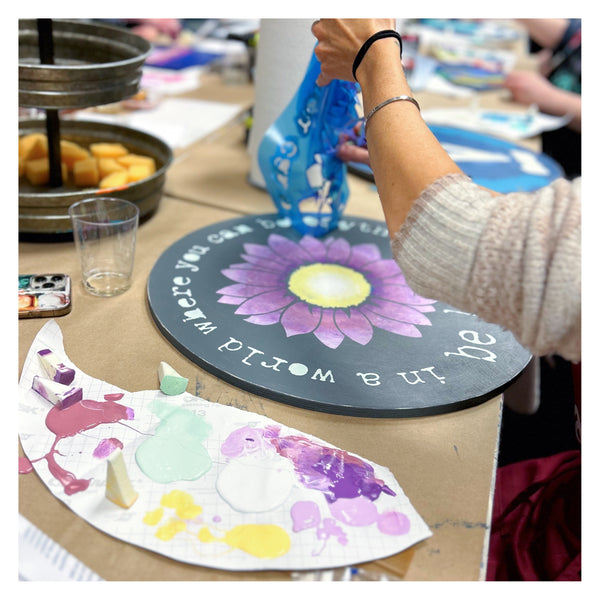 What To Expect
Never been to a wood and paint studio? No worries, you are not alone!  Here is what to expect when you arrive:
Both your wood and your personalized stencil will be placed on a work table at a reserved spot. If you requested to be seated next to a friend, you should find their design in the spot next to you.  In order to protect your clothing, you will want to put on the apron provided. If you also wish to place your purse/handbag away from the work table, there is a designated area where you can safely place your things. 
Once everyone has settled in, we will begin class. A typical class will last for 2-2.5 hours. Larger pieces and furniture projects may last up to 3.5 hours.
The instructor will guide you through the process, from start to finish. We will also help you with the selection of stain and paint color options. If you get lost, written instructions are provided at the center of each table as well as on the wall. We will be hands-on throughout the entire workshop, but if at any time you have questions or need help, please let us know! We are there to HELP YOU!! 
Continued...
As the workshop progresses, know that not everyone will be moving at the same pace. This is normal – don't compare yourself to anyone else. This is YOUR project and YOUR experience! HAVE FUN, ENJOY YOURSELF, and BE PROUD of your creation! Again, we are there to help. So, if you have questions or need a hand with your project, let us know!
When you have finished your project, you are free to go! BUT before you go, and if you are up for it, we'd love to get a picture of you with your project for our gallery!
Last, but certainly, not least … we are so grateful to you for spending time with us at our workshop, and we hope to see you again very soon!
BOOK A WORKSHOP!